One of the downsides with being a ride leader is that whatever course your come up with, it's your own fault. As I pull myself up some of the hills we ride in the evenings, I think to myself, "Who chose this route? Oh, yeah, it's my fault"
This is the second year of Sufferin' Summits, and I am fully responsible for the existence of this deliberately stupid ride. The premise of the ride is simple; stuff as much climbing into the smallest number of miles.
Last year I had to drop out after climb #5 because of some back issues, and I decided to resolve that by going to the PT in preparation for this year's ride. And that is exactly what I was thinking the morning of the ride; going to the PT is an *excellent* idea. I should get on that. I did spend a fair bit of time rolling my back, doing exercises, doing stretching, and riding a lot of ugly hills, so I felt – well, "prepared" is probably the wrong term, so let's say, "less unprepared".
And I felt reasonably confident. Until I saw this: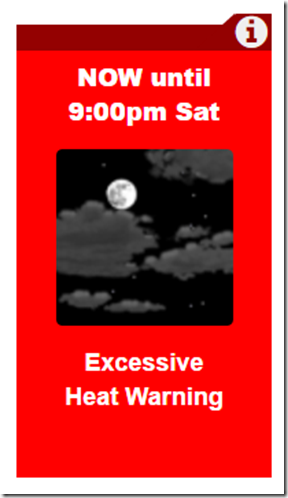 The forecast was for the low 90s, which is pretty hot around these parts. I shifted the unofficial ride start time from 9AM to 8AM, and decided to just deal with the heat. I am no stranger to suffering on the bike in the heat – RAMROD 2009 comes to mind – but because reasons, never seem to do much training in the heat which is about the only thing you can do to suffer less.
Anyway, I got up at 6AM, had breakfast, got dressed, slathered sunscreen on, and headed out. Got there about 7:30, pulled out the bike, and got ready.
"Do a lot more promotion for the ride" was right after "make sure to go to the PT" on my list of things to do, so I'm really not expecting that many people, and I expect that a few will be scared off by the heat.
We end up with about 8 people when we pull out at 8:03, heading over to climb up Grand Ridge, the first of the 8 climbs we will be doing. Two of them had already done climbs 2 and 3 because they couldn't find the first climb.
On reading that last sentence, I feel that I should make it clear that "two of them" refers to cyclists, not to hills.
So, anyway, we roll through the cool and quiet Issaquah streets, making our way to the start of the first climb and talking about the chances that we will feel cold the rest of the ride (the consensus prediction is 0% chance). My legs are a little tired on the first bit but not too bad and my back is a little sore, but also not too bad. Grand Ridge is a climb I really like; it's not too steep (say, 15% at the worst, and that's not too long of a section), and at the top it has some really nice views, though the houses they are building are cutting many of the views off. It's also a cool 1017′ of elevation gain. I feel pretty good on the way up but am trying to moderate my effort as I know what is coming up later in the ride. We descend back down into the highlands, and then back down into Issaquah, making our way to our second climb.
The Squak Mountain climb is next on the agenda, and here we establish the usual pattern; I start the climb on the front and the rest of the riders slowly pull away from me as we climb. The climb doesn't feel too long, which is a good indication that my fitness is decent. A look at my stats for the ride shows that I PR'd the climb, doing it about a minute faster (5%) faster than my previous best. Either an indication of fitness or an indication of me pushing a bit too hard this early in the ride. I actually get a bit cold on the descent as my sweat dries. The climb is actually about 976′, but I'm going to round up and call it the second 1000′ climb of the day.
At the bottom, we stop at the ball field for water and a nature break. I've done through one bottle of water; I mix another and try to pre-hydrate a bit. After telling myself not to forget, I forget to wet down my sunsleeves (like arm warmers, but white) to keep cool.
Next up is a little development called Talus. Our route features a nice little climb that few people know about; in looking the Strava stats, I note that 48 people are in the list, but looking at the dates, well over half of those are from the two years of Sufferin' Summits. The climb starts out brutally hard; 18-19% or so, curves around, moderates a little, and then turns into a little one-lane road through the woods. Near the top they are putting in some new houses, so we have to dismount and walk our bikes through the gravel, and then take a nice 20% connector between houses to continue to the top. Might be a bit steeper than that at the top; I get that "I'm not sure I can keep climbing without falling over" feeling. After the top of the first climb, we head over to do a small climb to the south, where we are tantalizingly blocked from the new upper section of the development by a chain link fence. Talus clocks in at around 550′; with any luck the upper section will be done by next year and we'll be able to add a chunk to this section.
A descent and a short spin takes us to the base of Cougar Mountain, which has been a benchmark to separate the truly stupid for decades. While "have you done STP?" is by far the most common question non-cyclists will ask; if you are a serious cyclist, one of your riding buddies will eventually ask if you have done "the Zoo". Which is why it shows nearly 2000 unique people on Strava. Once we get under the canopy, it's fairly cool, and I spend some time talking with Jeanne as we climb up. Zoo is quite pleasant if you have the legs for it and are willing to take it easy. Instead of heading straight on the traditional climb, we head down to the next development to a particularly nasty connector section of 18-19%. As the group slowly rides away from me, I start tacking back and forth across the hill; I have the leg strength to ride straight up but I'm pretty sure I'll need it later, and going back and forth chops the grade down to maybe 14% or so. This section is notable not only for how steep it is, but for how long it goes on; the first pitch is a full 250′, which is a long time at these gradients. At the bottom of the second section, I briefly chat with a group of women out for a walk, and they congratulate me. I'm not really quite sure why; perhaps they believe that anybody who is stupid enough to ride up that particular hill clearly has more than his share of problems in life and would therefore benefit from some extra encouragement. Seems like a decent theory to me.
At the top we connect with the traditional Zoo climb, and then hit the top in three separate climbs – Zoo top, Pinnacles, and Belvedere – each of which nets us another 250′ of hard-won altitude, and bringing up the total of this segment to 2030′. I am climbing okay, but the heat is getting pretty bad by now, and my heart rate is higher than I would expect for a given power output, which is a decent sign I am getting dehydrated. Up Belvedere, I average 200 watts riding 5 MPH with my heart rate averaging about 150, where 150 would normally net me something closer to 225 or even 250 watts. I drink as much as I can stomach and keep riding.
We descend a bit, do a short and easy climb up to the park for a rest break. I have cleverly arranged for my wife to run a food stop for us, and we snack on brownie bites, cinnamon rolls, and cheez-its, get cooled off a bit, do our best to rehydrate, and then head back out.
This next section is something special. And not in a good way; this first climb features the steepest section of the ride (measured at 23%), it faces directly south, and it's 11:20 so it's been baking in the sun so it is pretty hot. There is a steep section, a slightly easier section, and then it just gets nasty. I spend 11.5 minutes suffering up this 494′ climb, and I'm really unhappy, but this is not unexpected as this is the worst climb of the ride.
At the top – as usual – the group is waiting for me, and at this point I realize that although they are climbing faster than me – and working harder – they are also spending a few minutes in the shade resting, while I just keep riding. I carefully spray a bit of precious water onto my arms, my back, and my head, and find that it's quite hot; somewhere between "hot tub" and "lobster boil".
We do a smaller and not-quite-as-steep section to the east, and then finally climb up the Summit development which is just a twice-baked sufferfest at this point. I am dripping and crusty and dehydrated, but we hit the summit, hop the wall at the emergency gate, and descend to the north to a gas station, where I purchase the Coke Zero and half-gallon of water that has been calling my name for the 10 miles.
I buy a coke zero and a big chunk of water, and we all get out of the sun for a while. Everybody is looking a bit tired and hot, and is happy for the rest. We spend a full 20 minutes there and then head out for the next chunk, first descending all the way down next to Lake Sammamish.
This climb is another one I like when I take my usual route, but the route I've chosen for the ride features another really nasty steep part, nicely named "ay mamacita" by an unknown cyclist. I climb it slowly but the combination of a large infusion of liquid and wetting myself down at the stop makes it fairly tolerable, but as we go to the next section of the climb, my clothes dry out and the air is totally still; it feels much worse than the the Summit section we just climbed on the south side. I'm still trying to drink at a reasonable rate because I know I need to stay hydrated but my stomach is starting to rebel a bit, in the "I think I might need to pull off the side of the road and make a deposit" sense. Eventually, we arrive back near the gate that takes us into the development; I call a 5 minute break so that I can get my friend Mike out of the sun for a bit because he is not looking very good. It was a purely selfless gesture and had nothing to do with my desire to hop the fence of the summit clubhouse nearby and "accidentally" fall into the pool.
We descend down on Forest Drive and turn right to start climbing the Highlands. Luckily, this is three small climbs with a chance to recover in between; unluckily, it's a single lane so you mostly have to go straight up. I turn off into the flat side streets for a small bit of rest before heading back up. I reach the crest and Jeanne is on the side of the road, confused because her GPS is trying to tell her to skip part of the course. We regroup, do one short climb to the top of Somerset (but not the real top), at which point I tell her of my plan.
My plan is to pull off in the shade on one side of the road and see if I can get myself cooled off a bit before I decide what to do next. And so I sit down for 5 minutes, stand up, grab a drink of water, and start riding down to do the last hill. On the way down, I cool down a bit and start to feel a bit more nauseous, and I continue to feel that way as I roll along the flat for the last climb. It would seem that I have made a tactical mistake, and a few alternate routes back flash through my head, but I decide to press on. I hit the first pitch and am surprised to discover that if I tack back and forth and ride really easy on the tacking parts and faster on the turns – averaging about 150 watts – I actually feel better than I did on the descent. Weird. I keep this up on the other pitches, and after about 15 minutes, I get to the easier part, work my way to the north, and then head up a short bit back up to near the top.
And it's time keep riding. There's a voice in my head that says, "that wasn't that bad; you can do the top bit here and then the two last hills", a second voice that says, "did you *see* how slow you were riding on that last section? I was surprised that you didn't fall over", and a third voice that says, "Recalculating… You can return to your start point with 6 miles of descending and approximately 0 miles of climbing".
I listen to the third voice, and it's actually a good thing I do because I feel sick on the descent again, but manage to keep focused and riding. At a construction zone right before the end, the rest of the group catches up with me, and we ride to the finish together. The car claims it's 102 when I get in; after a bit of driving it sheepishly corrects that to only 95 degrees, but whatever the actual temp, it was really, really hot.
So, that's the ride. I'm going to declare victory and say that I finished the ride and that those last little bits didn't really matter. I had the legs to keep climb up them, at least.
And onto the stats.
55.9 miles of riding in 5:34:54, for a blazing 10 MPH average, just 0.1 MPH less than last year when it was cloudy and about 25 degrees cooler. 8213′ of climbing. And, for all of that – a measly 2891 calories burnt. My climbing was at just a hair over 700 meters per hour (155 acres per jereboam in "freedom units"), which is decent.
Strava activity is here.