(1) Grand Ridge <= (2) Squak => (3) Talus
This one will be of little surprise to anyone. The mountain known as "Squak" is an obvious choice, and since we are coming from the east, there isn't even any suspense about which side we will climb. This is conveniently the harder way up.
I first climbed this back in 2006, as the last climb the Seattle Randonneur's "Mountain Populaire", a 100 kilometer ride that started on Zoo hill and finished on the first half of this climb up Squak. At the time, that was hardest ride that I had ever done. Little did I know that a few years later I would be putting together a ride that was worse.
After going through Issaquah on Sunset, we continue straight as the road turns into Mountain Park Blvd. The first section is a series of rollers, but not in the usual "up and down" sense of rollers; these are of the "up and upper" variety. Just as the road flattens out, we turn left on Mountainside Drive to continue the climb. Don't worry if it looks flat; it will kick up steeply after a short bit. After a bit, we leave the houses behind and hit the upper section, a switchbacky road. Eventually, we hit a stop sign at the entrance to the Forest Rim Development. Turn right or left, and you will top out a full 1000' from the start.
It is your choice. Just as doing this stupid ride was your choice.
The descent of the top section is the same way we came up. The pavement is in good shape on the upper half but there is one very tight turn, so it's essential to control your speed well. When we reach the intersection, we turn left, descend 0.7 miles, and turn left again where the arterial turns on Mt. Olympus Drive (this is easy to miss). This is a fun curvy section that will take us down to the bottom, but note that there is a really steep section with a stoplight at the bottom, so, once again, watch your speed.
This takes us all the way down to the base, where we come out right next to our starting point. Bathrooms and water are available in the park on the left before the light, and I recommend filling up; there are two hills before the next opportunity.
Here's the map. Click to view online.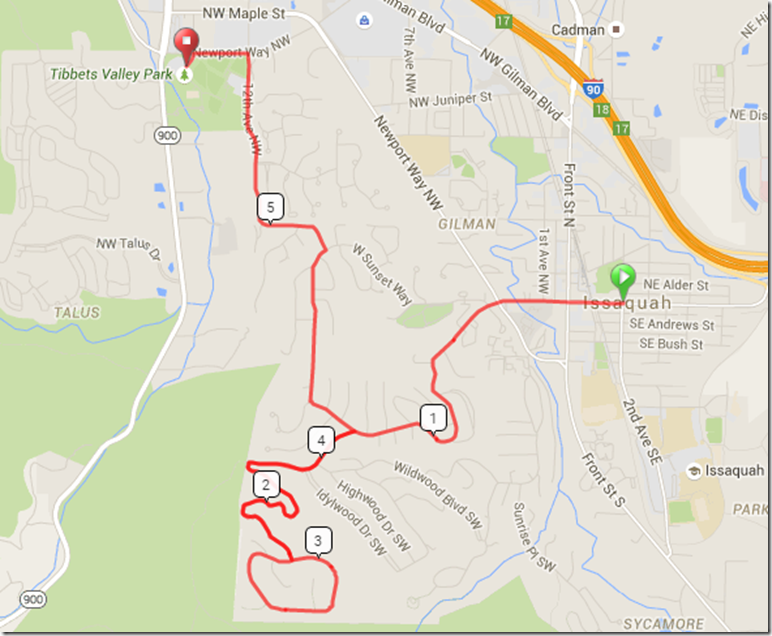 And here's the color-coded map for the climb. Gradients are estimated; your gradient experience will vary. See a doctor for climbs lasting longer than 4 hours.
Click to go to the BicycleClimbs.com source page.