Preparation
A few years ago, I got the idea of doing a solo ride along the RAMROD (my 2013 writeup here) route but in the reverse direction, which would obviously be named "DORMAR" (RAMROD backwards). It looked like it was doable from a water perspective, and would have the advantage of putting all of the climbing in the first 75 miles of the ride, rather than putting a huge climb in at 90 miles into the ride. That would be better because it would be cooler. And you could do *all* the climbing, including the last 600' up to the Paradise visitor's center which the Park Service no longer lets RAMROD do.
I was excited enough to create a Facebook group and write a Rider's Guide. Even scheduled a day for it.
And, for two years, I found excellent reasons not to do the ride. Which means that I'm thinking that I really can't finish the thing comfortably.
This year, my lovely wife offered to drive SAG for me, which means I could ride it solo – which is really my preference – but without having to be wholly self-sufficient for the whole ride. My tentative plan was to meet her in Eatonville (115 miles in, after the majority of the climbing) to have a lunch, and then I would ride the last 40 miles.
That was the working plan, and this time I actually came up with a date – the Monday after RAMROD, July 29th this year.
Further planning commenced. And I realized that while I was really looking forward to the climbing part of the day – and the descents, I love the descents – I was unexcited about 40 miles of mostly flat riding in the heat of the afternoon after all the climbing. 3+ hours in the heat of the day after already doing all the hard work? I knew that I didn't like the last 30 miles of RAMROD, and that at least was downhill (though with a headwind).
Hmm. What would you call such a ride? It's a little bit shorter than the DORMAR, so let's chop a letter off of the name and we'll call it "DORMA". It will be 116 miles and over 8000' of climbing.
So, I spent a few hours creating the following in Inkscape: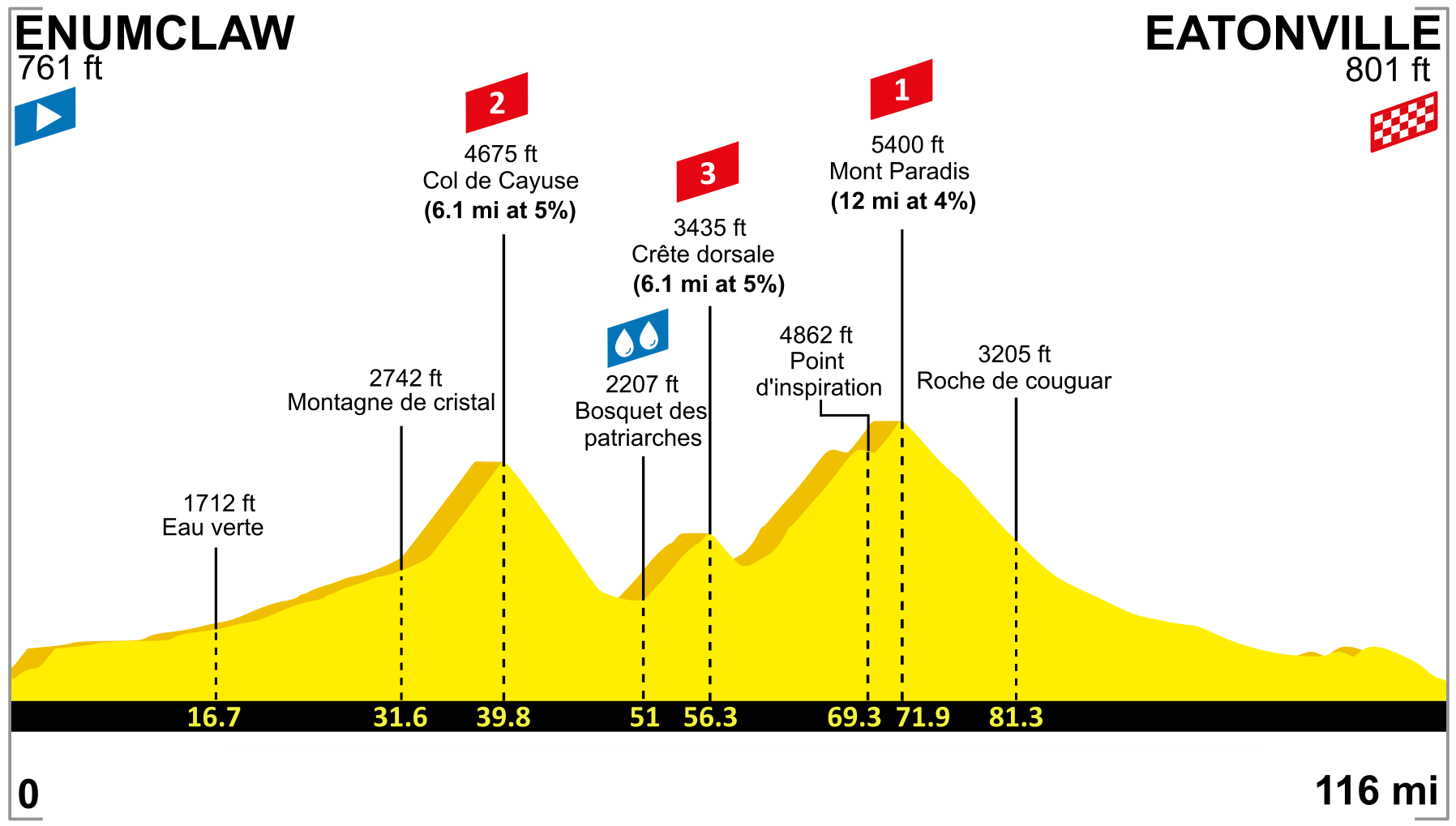 I am *exceedingly* happy with how that turned out. It's supposed to look something like this. For those of you who would prefer English, from left to right, Greenwater, Crystal Mountain Blvd, Cayuse Pass, Grove of the Patriarchs, Backbone Ridge, Inspiration Point, and Paradise (yes, it's not really a Mont, but from the way climbs are named I think that makes the most sense).
So, there's a 32 mile climb from Enumclaw to the park entrance at Crystal Mountain, then a climb up Cayuse (1700' over 6.1 miles), a climb up Backbone ridge (1330' over 5.6 miles), and a climb up to Paradise (2621' over 12.5 miles). None of the climbs are particularly steep – last weekend I did 4000' of climbing at 9% – but there's certainly a lot of it.
For Kim to be SAG, she needs to have some idea of when I'm going to be at various points along the route. That is a bit of a challenge. For the main climbs, I actually have some data from last summer of the first climb, and it showed that I did that section in 50 minutes, which meant I was climbing at 34 feet per minute (at 195 watts, if you care). For the descents and easier climb at the beginning, I based it off other numbers I had or just a decent guess. That gave me the following timeline: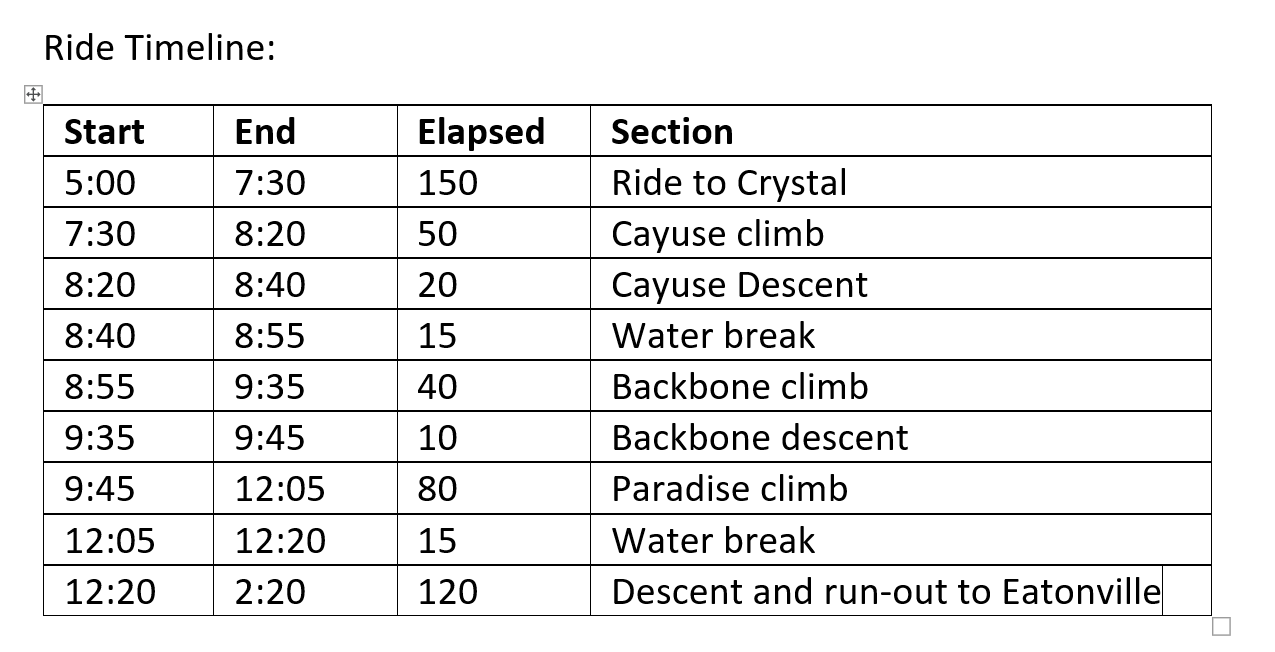 That's 9:20 minutes total, 8:50 riding and :30 resting. That's a little over 13 MPH average, and while my last run of RAMROD came in at an even 15 MPH, that included 50-60 paceline miles which bumps the average up a bit.
I put this all together in a guide for my wife, along with a map of the Eatonville end location (the Visitor's center that RAMROD uses as the first stop).
T-1
A list of tasks done in preparation for the ride, in random order:
Charging of electronics
Headlight to deal with the early start
Rear blinkie (these are technically required when riding in the park but are spottily enforced)
Di2 shifters (very happy to remember this)
MP3 player
Downloading of podcasts
Inflation of tires (80 PSI for my 700×28 Conti GP4s.)
Lubing of chain
Replacement of backup rear blinkie
Testing of backup backup rear blinkie
Clothing Selection
My best Castelli bibs
A Nike Dryfit underlayer (it's not going to be very hot)
My Rails to Trials Jersey (a bit too big, but bright yellow, so good for visibility and not too hot. And really big pockets)
Pack bike bag (I have a cloth shopping bag that holds all of my basic riding stuff; arm/leg warmers (hope to skip these), light vests and coats, shoes, helmet, gloves, etc. This is a "grab and go" bag, so all I really needed to do was make sure I had my gloves and headband, which get hung up to dry after rides.
Tightened the BOA retention wheel on my left shoe
Food and drink prep (I don't need much food these days, so it's a lot more than I need)
Three servings of hydration mix (Bio Steel), one in a bottle and two in a pack.
A bag each of:
Mixed nuts
Trail mix
Cheez-its (my traditional long-ride fuel)
A bag of homemade jerky thawing in the fridge that I hope not to forget
A serving of SuperStarch to drink before I start.
Put sunscreen, chamois butt'r, and MP3 player/headphones in my small bag.
There are only 5 or so turns on the entire route and I have them in my head, so there's no need to bring any maps or use my GPS to navigate. If I was doing the whole ride back to Enumclaw, I'd probably have done nav for the last section.
I got a decent but not great night of sleep two nights before, and that is the one that really matters; the night before I typically never sleep well and since I'm getting up at 4AM I'm going to be messing with my REM sleep anyway.
We headed down to Enumclaw, checked in at the Rodeway Inn, and went out for dinner at the Rainier Bar & Grill. I had a decent burger.
From wakefullness to ridefullness
After a malfunctioning AC and a hot crappy night of sleep, I woke up at 4AM for my 5AM departure. I don't need that much time to get ready, but my eyes are much happier with contacts if I'm up for a bit.
As part of getting ready, I took a look at the current weather. I had planned my gear based on mid-50s and then warming up as the morning went on – which for me would mean a vest and maybe arm warmers. Even though I'm wearing my "Rails to Trails" jersey which has giant pockets, I have a lot of stuff and clothes take up a lot of space, so I don't want to take too much.
51 degrees.
Yikes. The logical thing to do would be to add my leg warmers, but leg warmers are really bulky and not easy to carry when you take them off (you can stuff them inside your bibs but they will keep you warmer than you like. So, it's vest & arm warmers and hope that it warms up quickly.
I drink 3 servings of SuperStarch mixed in water. SuperStarch is modified cornstarch, so go to your kitchen, take about 1/3 of a cup of cornstarch and add it to a glass of water, and drink it down. I'll wait.
Nasty, wasn't it? But I've had good luck with it as a time-release glucose source.
I glance at my watch as I ride out of the hotel parking lot, and it says 5:01. Perfect
Enumclaw => Park Entrance
32 miles, 2146' of up
As I head out on highway 410 – with front and back lights as it's still *dark* – it's a nice and still night and 51 degrees doesn't feel as cold as I expected. I'm cold, but not that bad. Bodes well.
The moon is out as a waning crescent; just the smallest slice bright and the rest slightly illuminated from earthshine. Pretty.
The first 3 miles climbs about 500', and I warm up pretty well during this section. There's pretty much nobody at all out on the road; a few trucks heading to the gravel plant for the first mile and then it's almost empty. I'm listening to Radiolab podcasts on this ride to keep me occupied (yes, I can still hear cars & trucks approaching), and after the first hill section I'm spinning along at about 170 watts. I want to keep a decent pace but I don't want to use too much energy or legginess (legity), so I'm trying to stay in the sweet spot in between.
After about an hour, I zip my vest back up because my hands are getting a bit cold. I flip over to another screen on my GPS to see the temperature…
41.7
Damn. I can tolerate the cold pretty well and my core temp is okay so far, but my knees do not like being this cold. Nothing to do but press on.
The rest of this section passes slowly and it does warm up *slightly* as I keep going; the base of Crystal Mountain Blvd – where the National Park starts – is all the way up to 44 degrees.
Cayuse Pass
6.1 miles, 1700' of up
This section is a big misleading; the first two miles after you enter the park are the same gradient so you think it's going to be easy, and then the pass begins.
I haven't been able to find out who designed Cayuse Pass, but he was pretty bull-headed. Starting at the top point, the route wraps around the hill contours but barely wavers from a constant 6%. That means it's easy to find a groove and stick to it, but there's pretty much no variety to be had. I've been eating a bit to keep my reserves up; a bit of trail mix and some Cheez-Its. And drinking, despite me not sweating much, as they last thing you want in the mountains is to get behind on hydration. There's a nice view of the southeast side of the mountain at one point, but I keep climbing. The sun is up but I'm on the west side of the hills and therefore still in shadow.
Eventually, I finally top out at the top into the sun and 47 degrees. My timeline estimate was that this would take me 3:20 and it actually took me 3:40, which I'll note is pretty much exactly 10% slow. I was a little lower on wattage than I had expected, but it's a long day and this is not the part of the ride to try to push.
Cayuse Pass Descent
11 miles, 2584' of down
The Cayuse descent is a bit like the climb I just finished; 8 miles of 6% and then a flatter 3 mile section. I really like mountain descents, the road is good, and the constant 6% gradient means that I can cruise along at around 31-32 MPH at about 150 watts. I rarely coast on downhills as spinning keeps my legs warm. There are two sections at the top that head eastish and are therefore in the sun, and I warm up a bit, but most of the route is once again on the west-facing side and are pretty cool. My next climbs are going to be on hills facing east, so I'll have plenty of chance to warm up soon. A glorious 14 minutes of fast descending takes me to the runout section, and I get to the park entrance at 4:04 into the ride, or 24 minutes behind my estimate.
A young park ranger takes my $15 – she does not offer the "Just go ahead" discount that I got when I climbed Sunrise last year – and I head to the Grove of the Patriarchs stop.
If you are in the area, this is a great stop; the trees are truly massive and the short loop hike is worth the effort. I'm only here to use the bathroom and to refill my water bottles. My hydration state seems okay so I mix a bottle of BioSteel to replace the one I had just finished and fill my second bottle as much as possible – which is only about 50% given the water fountain stream. I drink a bit extra, refill it as much as possible, and head out after a quick 10 minute stop. 5 minutes of time made up on the stop.
Backbone Ridge
5.6 miles, 1330'
This is the baby climb of the ride, but at 1330' of up, it's still quite a bit of vertical. I'm still trying to climb at a reasonable pace, and it seems that my pace today is a bit slow; it takes me 50 minutes to do this climb and I'm only climbing at 441 meters per hour; my usual rate is closer to 600 so this doesn't bode particularly well. The climb isn't very steep – only about 4% – and the temp is in the 50s and there are sections of sun. I feel decent, I'm just not riding very fast. Sometimes it happens.
And my butt is hurting. I've had a saddle sore for a while, and it's flaring up. That means I need to stand up every few minutes, which I do fairly often anyway to stretch my legs but not this much. Both of those are having an effect on my speed.
On the way up there is a cycling group with matching jerseys that pass me going down. There are few cars.
The descent is a fun one, and there's a bit of flat. A miscalculation means that I'm done with RadioLab, so I switch over to music.
My data says that I'm 22 minutes behind my timeline at this point, but other than a general sense of where I was at the top of Cayuse, I don't know it at the time. It's only relevant for Kim driving SAG, and there's little I could do about it even if I knew.
Paradise
12.5 miles, 2621'
This climb is 300' shorter than the climb up to Sunrise that I've done a few times, and it's dwarfed by the 5000' Hurricane Ridge climb on the Olympic peninsula, but that's still quite a bit of climbing.
Nothing to do but HTFU and climb it. I feel decent but not strong, so I settle into a constant pace, which later data shows is a disappointing 170 watts.
I climb, climb, and then I climb some more as I work my way up the ridge. After 46 minutes I take a quick stop to eat some jerky (on this climb I think trying to eat it on the bike will end up using it to decorate the roadway, providing an unexpected protein windfall to the local fauna). This is *not* my jerky – which I did manage to leave in the fridge at home – but a decidedly inferior substitute purchased at a gas station.
Then it's back on the bike to ride the rest of the way to the top. During the climb I stand up 19 times to rest my butt.
Eventually I hit the switchbacks and reach a point where I can actually see the mountain, and then a bit more climbing and I reach Reflection Lakes where it flattens out, and then after a bit of downhill it's just the short 600' climb to the Paradise Visitor's Center. Lots more traffic on that section and I'm pretty toasted, but after what feels like another 10 hours on the bike, at 11:45 I hit the top, where I get off my bike to fill my bottles, take a rest, and look at The Mountain. Despite it being a weekday, the place is packed.
List of things on Eric that hurt:
Back
Butt
Feet
Toes
Knees
Pride
My feet are really tender, likely from all the standing, and my knees – which pretty much never bother me even on really hilly courses – are hurting a lot. If I was smart, I'd take a couple of ibuprofen, but apparently I'm not.
My target time for the climb is 80 minutes, and it ends up taking me 100 minutes, so about 20 minutes slow, or about 45 minutes behind in total. A little of that can be attributed to altitude; the average altitude of the climb was about 3750', and – looking at some references on Alveolar O2 and altitude – I can calculate that I'm down about 13% on oxygen, and that goes up to 18% at the top.
Math Pop Quiz:
Q: It is currently 9:45. You are going to perform an activity that you expect to take 80 minutes. What will the time be when you finish? Please show your work.
A: Well, 80 minutes is 1:20, so at means 10:65, but that's not a real time, so normalize it to 11:05.
Did you pass? I didn't, as a look at my timeline will show that I ended up with 12:05 as my expected endpoint for this climb. So, rather than being 40 minutes late, I'm suddenly 20 minutes early.
I obviously didn't realize this at the time;I just knew that I had beat Kim to the top. I expect this will work out well, as she's going to come up here and hang out a bit before following me down.
I know you are wondering what my music was, so here's the playlist I used from a number of years ago (it's generated by my Personal DJ program):
My World – Avril Lavigne
Any Way You Want It – Journey
Be My Girl – The Police
Holiday – Scorpions
Silicon World – Eiffel 65
Roll the Bones – Rush
Time – Pink Floyd
Sister – Creed
When I Come Around – Green Day
You Give Me All I Need – Scorpions
Analog Kid – Rush
Bastille Day – Rush
Crystal Baller – Third Eye Blind
A Praise Chorus – Jimmy Eat World
Tie Your Mother Down – Queen
I'll Be Over You – Toto
Doug's First Job – Uncle Bonsai
Out of the Vein – Third Eye Blind
Stranger in Town – Toto
God of Whine – Third Eye Blind
Questioned Apocalypse – One Fell Swoop
Always Somewhere – Scorpions
Wake Me Up When This Climb Ends – Green Day
Warning – Green Day
Summer Song – Joe Satriani
Cult of Personality – Living Colour
Sing Child – Heart
Suite Madame Blue – Styx
Trees – Tripod
It's Easy (taking it pitch by pitch) – Boston
Going To California – Led Zeppelin
After a bit of sitting and resting, I pick all the cashews out of the mixed nuts I brought, eat three brazil nuts, and head out for the rest of the ride.
Descent and runout…
43.8 miles, 5331' down, 725' up.
It starts with about 11 miles of 4% grade and then gets flatter as the section goes on.
As previously noted, several body parts are painful, but the first part of the descent is what I expect it to be; fast parts with some tight technical turns where I show that I am not the fastest descender in the peleton. As I turn off the top part, Kim passes me going up.
The descent is just what I thought it would be, and would be fun to ride.
Except. For. The. Headwind.
One of the truisms of RAMROD is that the ride back to Enumclaw is always windy. I don't know if that's a truism here, but it's certainly true today. It ranges from a few MPH when I'm in the forest to gusty sections that remind me of the time I rode part of the Kona Ironman course on the Big Island. On an average, it's cutting off 5-10 MPH from my speed, which is just pissing me off. All the effort to climb up and then I get ripped off going down. When I finally get back outside the park, I text Kim so she has a time check for when I hit a certain part of the course.
I have Elbe on my mind. On the north side of the road at the west end of town, there's a gas station with attached store, and there's an ice cold Coke Zero in one of their coolers, calling my name.
The wind is doing nothing to improve my mood or reduce the pain in my body, but I can still ride and my power levels aren't horrible. As a ride leader, I spend a lot of time out in the wind, but this one is nasty and relentless. I pass Ashland and it gets better for a couple minutes, but then comes back with a vengeance. 104 miles is my target, and I slowly watch the miles count up. At 100 miles my GPS loses the decimal point and time slows down.
I finally get to Elbe, where I get the aforementioned Coke Zero and read the advertisements on the community bulletin board. Good price for tree grinding. I text Kim again, and then head inside to get an ice cream bar. I want something simple, but I end up with a Heath bar crunch. I haven't eating an ice cream bar in a *long* time. It is sickeningly sweet and not very appealing, but I was raised to eat the food I took, so I finish it and feel a bit queasy.
I'm getting ready to head out for the the last 12 miles, but I receive word that the organizers have decided to neutralize the remainder of the route, so I instead wait for my team car to show up, and we head to Eatonville to have a nice lunch at the Cottage Bakery and Cafe.
Thoughts and other stuff
That was a really hard ride, though if my knees/butt/feet were better, the section to Eatonville would have been simple as it was only another 12 miles.
I tend to do my long rides solo, but at this distance companionship would have been welcome, though my climbing pace might have been problematic. Omitting the ride from Eatonville back to Enumclaw was a good decision, given my current fitness level. It was fun, for "long ride in the mountains" levels of "fun".
Stats:
| Distance: | 103.36 miles |
| --- | --- |
| Riding Time: | 8:02:11 |
| Elapsed Time: | 8:30:50 |
| Speed | 12.9 MPH |
| Power | 146W |
| Calories | 4217 |
| Whines | 3845 |
My food for that day was three servings of SuperStarch before the ride, a handful of trail mix, half a package of jerky, 15 cashews, and about 50 cheez-its.
Stava here, RideWithGPS route here.