This last week my wife, daughter, and I took a trip to British Columbia to do some skiing.
We stayed in a condo at Silver Star as our central base, and then drove to Big White and Revelstoke for a day each. Here are my quick thoughts…
Silver Star
Silver star is 22 km from the town of Vernon. We stayed in a condo on the hill above the village (not on the ski hill side) above the Silver Queen lift. It was ski-in ski-out if you are willing to do a small bit of climbing on your skis.
The village is pretty tiny, though there are 3-4 places to eat. All are pretty much exclusively run by young adults from New Zealand, Australia, or other ex-British colonies. This is a pattern all over BC.
It was late season, so the snow wasn't great on Monday. The snow off of the comet chair was okay, the snow off the lower Silver Woods Chair was not. We took one trip over to the backside, which involve some long green runs. The snow there was uniformly awful; it had the wet and refrozen surface that we all hate, and the grooming ridges had set up very hard. We went back on the front side for the rest of the day. It was decent for spring skiing, and I spent a bit of time skiing Attridge face and Christmas bowl.
Friday was a different story; there was 6″ of new snow. We headed back to the very empty Alpine Meadows chair, and did laps. I mostly skied off of Ridgeback, and found anywhere from 4″ – 6″ of untracked, with a few deeper spots I the trees. It was obviously very nice. When that got skied out a bit, I headed more to the left and found some glorious turns on untouched snow on the Fastback run. And then I found out why; those runs only feed below the village on the entrance side, so it's a cat track out, a trip up the Silver Queen lift (back by our condo), and then cat tracks to get back to the Comet six-pack, and then some skating to get back to the Alpine Meadows chair. That took a bit of time.
After lunch we headed to backside to ski Eldorado. This is marked as a blue, but it is really a very long cat track with a couple of blue pitches on it. It's there so that more advanced terrain can be accessed. This is the same story for Aunt Gladys on the other side. On paper, there is a ton of terrain on the backside, but they really need two or three lifts to make it accessible without a lot of traversing.
Solo after the others headed back to the front, I skied Cantastic glades at the top, which still had some very nice snow on them, and then ducked into Doognog, a double-black with a thin entrance. And it lived up to the billing; it was tight, bumpy, and steep. Most of the new snow was scraped, so I sideslipped the tight sections and very carefully skied the rest.
With one more run in my legs, I decided to head down 25 north and sunny ridge. These are real blues and had some nice snow on them. Then I made the mistake of turning off into Sunny Glades, and they lived up to their billing, with about 9″ of the gloppiest snow you have ever seen.
Access back to the front side is via a very long run and sometimes flat run "last chance" or a tee bar. I took the t-bar.
I think it's a pretty decent mountain to ski at, and would be a great family mountain. The backside has potential, but all of the traversing and cat-tracking got on my nerves. Village is a little small but was okay (though don't think you can buy groceries at the grocery store). The condo we got was nice and fairly cheap, and Vernon is close enough if you need civilization.
Silver Star is a member of the Powder Alliance, which means you get to ski free if you have a Stevens Pass Season's Pass. This is a really nice benefit that saved us quite a bit of money.
Oh, and if you get the chance, do the sleigh ride to dinner. The sleigh ride was fun and relaxing, and the food was pretty good.
If you like Nordic skiing, there were a *ton* of trails around and a lot of extremely fit skiers. They claim to have the largest network of groomed trails in North America; they have 55 km of trails and you can dual-pass to get another 50 if you would like. There was also some fat biking.
Big White
Big White is the big daddy in the neighborhood. It is big, with 15 different lifts, and a whole lot of different terrain. If you want the resort experience, this is a good place to go.
There is a fair bit of terrain variety, but on the day we were there, we ran into fog at the top of Powder chair. This is a common enough experience that the resort is nicknamed "big whiteout". Having never been there when the top was clear, I can't tell you what it is like, but there isn't a ton of high-level skiing here. It's a great intermediate mountain, however, and there is a ton of on-slope housing.
Even with the amount of available slopes, it actually felt crowded, though we never had much of a wait for a lift. We skied the Snow ghost & ridge rocket blues, spent some time playing in the glades off of the black forest express. I also recommend a trip through the skiercross/boardercross course in the Telus park; it is a lot of fun.
Big White runs from about 5000′ to about 7600′ at the summit, if you could see anything when you got up there.
Revelstoke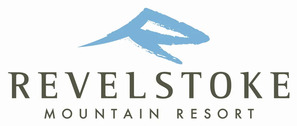 Revelstoke is north and east of Silver star, conveniently located in the town of Revelstoke. Revy – as you have to call it if you have any aspirations of coolness – has the most unassuming base area I have ever seen:
There's a small parking lot, a small base building and an attached hotel, all plunked down in the outskirts of a small town. The base area is only at 1,680′, and given that it was late March, there wasn't really much of what you would call snow left there. There is a small magic carpet, and a single gondola. This Gondola takes you on a 4-minute ride up the hill, up to Revelation lodge at about 2300′. There is a small magic carpet there (both for skiing and getting back to the gondola). It was technically possible to ski down from there to the base, but we did not attempt it.
If you hop on the upper Revelation Gondola, it will take you on a 9 minute ride up to Mackenzie outpost at about 5000′. There are a number of blues and blacks below the Gondola but the snow didn't look great on the way up, so we opted to skip it, and we skied down to "The Stoke", which took us another 2000′ up the hill to 7,300′. And then we skied.
The lower slopes looked sparse because of a fair bit of rain the night before, but that gave us 8-10″ of fresh on the top. We came down Critical Path, which has the distinction of being the steepest blue that I have ever skied. The snow was soft, and once I got a bit warmed up, we had a nice time. We also skied snow rodeo a couple of times before lunch. These are *long* runs; Stevens Southern Cross is about 1700′, so the Stoke is about 20% longer than that, and if it was mid-season with good snow, you could ski the rest of the way down to revelation lodge, something like 4500′ of vertical. Which, honestly, is a bit nuts.
It didn't take long to tire ourselves out, and we gondola'd back down to Revelation Lodge for lunch. Here you have a lot of choices; you can go the cafeteria, or you can go to the cafeteria. Revy is not currently a place with a lot of dining options.
After getting our food from the British/Aus/Kiwi staff, we headed back up the gondola and back up "The Stoke". We were headed to the North Bowl. There are two ways to get there; if you like really steep double blacks, you hike up the Lemming Route or traverse over to the edge. I am not good enough to do that, so we skied the top bit of The Stoke and took the Ripper Connector, a blue. And we skied, then we skied some more, and then we skied still some more. I can't find any elevations, but my guess is that we dropped a bit over 3000′. Powder bowl only has three runs – all blue – with a lot of "glades". I put quotes there because they aren't really gladed enough for me to really be able to ski them. We skied a bit of the edge and then under the chair a few times, until or legs got tired of trying to turn into the now heavier-than-normal snow. The Ripper chair is only 1600′ in elevation, and at the top you can see the runs on North Bowl, which look ungodly steep to me, and at least 1500′ long.
Come ski here only if you like steeps. The blues are fairly steep, and the greens are only cat tracks.
And – if you want a little more experience – they offer cat skiing packages that take you outside the ski area. And – if you still want more – Selkirk Tangiers Heli Skiing leaves from the base area.
The whole experience is a little hard to wrap your mind around. They have big plans to add more lifts, on slope housing, the usual resort things.