Last year, my wife Kim and I did a Backroads guided tour on the California coast. We liked the experience, but weren't overjoyed by the cost (they're quite expensive) and the set itinerary. We therefore decided to attempt a do-it-yourself version in the San Juan Islands.
Transportation and Lodging
If you are going to the San Juans, you are going to have to deal with ferries. In fact, ferries are going to become central to your life, as that is how you are going to get from where you are staying to where you want to ride, and you only go when they go. We paid $68 to get us and our car from Anacortes to our lodging on Orcas Island, which sounds like a lot, except that you only pay when travelling westbound, so our return trip was free. If you are willing to not have a car during your stay (and if you choose to do that, I'd recommend staying in Friday Harbor), it will cost you much less from Anacortes, though you may have to pay for parking in Anacortes so it might be a wash.
The cost for bicycles and passengers when you travel between islands is pretty cheap. In fact, it's free; you can take your bike between Orcas, Shaw, Lopez, and San Juan islands without paying at all. And you don't have to worry about getting there early to make sure you get on the ferry, so it's convenient as well.
There are a several different ferries that travel the route. We spent most of the time on the Klahowya, which is one of the small ones, chosen because some of the inter-island passages are pretty tiny.
You might end up on one of the super ferries, depending on schedule. They are a fair bit bigger, and are 75% more likely to be equipped with loud running children.
Which takes us to the ferry schedule. If you go to the state ferry website, they provide a simple schedule for you to use:
That is just the westbound schedule; there is also an eastbound schedule. You will need to understand both to plan your trips, and you'll also have to understand the little marks to the side of the times. And you'll have to know the order of the islands from east to west.
Or, you could do the easy thing, and click on the Schedule by Date link. It will give you something like this:
Which is customized to what you want to do. The cycle time on this route is around 3 hours – which is fairly typical for inter-island ferries – though it's not uncommon for there to be big gaps at times. This makes keeping track of time important; if you miss that 5:40 ferry coming home you are going to have to wait until 10:00 for your next chance.
Kim booked us into Grandma's Little House as our base camp, which is about 100' uphill from the ferry dock at Orcas Island. This was a great place to stay; very close to the ferry but surprisingly pretty quiet, a deck with a great view, and a small but well-stocked grocery store right by the ferry dock. It was great to walk off the ferry and be done. There is only one restaurant (the one part of the Orcas Hotel) which we didn't try because of mixed reviews.
I highly suggest bringing a set of light shoes that you can wear while you are on the ferry. Your feet will thank you. When you get on the ferry, make sure to ask which end to put your bike on; sometimes it's the front, and sometimes it's the back. You should also pull off anything you care about (computer, phone, tool) when you tie your bike to the wall on the car deck.
Day 1 – Orcas Island
To help level set, Eric is a serious recreational rider who rides around 80 miles/week with perhaps 5000' of climbing. Kim is in good shape and is quite strong, but hasn't ridden much this year.
To properly get into vacation mode, we decided to skip the ferry hassle, sleep in, and ride on Orcas on the first day. Orcas is roughly horseshoe-shaped, and we planned to ride from the southern tip of the western side to the southern tip of the eastern side and back, which Google maps assured us was 32 miles and 2300' of climbing.
We started heading north at around 9AM. The road surface looked like this:
Except that it wasn't quite that nice and didn't have a smooth shoulder.
That wonderful surface is known and "chipseal", and the majority of the roads on the islands feature it – both on the road and on the shoulder, assuming there is a shoulder. It adds a lot of vibration and slows you down perhaps 1MPH or so over a route. We were both running 25mm tires, and I heartily recommend them for this sort of surface, plus backing off a bit on inflation pressure. The surface quality will vary from "almost like asphalt" on some roads to "really rough" in others.
Confusingly located at the north end of the island, Eastsound is the main town on Orcas. Early on the way there, we hit a 300' climb that peaks at about 12% grade, and a couple of other significant rollers. The islands are hilly, and Orcas has a reputation for being the hilliest. We settle into a rhythm where we each climb the hills at our own pace, and I wait for Kim at the top. We decide to skirt the outside of town to the north, and take a quiet side trip down to north beach next to the airport. We then head south on the east side of the island. After a few miles, we come to a 400' ish climb in the 8/10/12% range, which tires Kim out a fair bit, and I'm getting hungry. Not knowing what our food options are farther south (we later find that they a pretty much "Rosario grill or foraging"), make the executive decision to turn around and head back into town.
It would be fair to say that the islands are not a culinary bonanza; there aren't that many choices where to eat. We ended up at the Island Skillet,  which has good sandwiches and uneven service. We finish our lunch, ride back to our cottage and laze the rest of the day. Dinner is a packaged salad and sandwich from the ferry dock grocery, which was pretty good (the bread we had on the trip was pretty universally great), but I recommend finding a place with a full kitchen for dinners if you want to stay here.
| | |
| --- | --- |
| Distance | 27.3 miles |
| Elevation | 2662' |
| Strava | Link |
Google maps says 1765' of climbing for that route, which means that it underestimated the climbing on the route by about 1/3rd. This was a consistent pattern across our rides; as somebody who has spent a lot of time looking at elevation models, my guess is that the elevation model for the islands isn't very detailed and it's missing a lot of the small undulations, so keep this in mind if you use it when planning rides. I expect that other sites will have the same issue as they all use the same elevation data bases.
Day 2 – Lopez Island
The second day found us up early on the 7:something ferry to Lopez island. We spent some time riding there on a family bike trip led by Bicycle Adventures in 2007, so we had some idea of what to expect, and we had a map from Lopez Bicycle Works. Lopez is a nice place to ride; great views and not too much traffic, and the hills are mostly reasonable. Our southern destination was agate beach, but a bad bit of planning on my part (not doing a gps route) and a bad bit of navigation (also on my part) took us all the way down to Shoal Bight, adding a few miles and 300' to the day. Somewhere in this section, we see the rusted shell of an old truck in a field, with a sign that says, "runs great, one owner, low miles, $8 OBO".
We eventually got to agate beach and took a nature break (where the outhouse featured a copy of "The Economist" for your edification). We shared a honey stinger waffle and some cheez-its, and headed to the west side of the island to go back north and get some lunch. About 3 miles from the village, I notice that my front tire is a bit soft, so I stop by Lopez Bike works to get a new tube, since it's conveniently on our road. "Bike works" is really just a small shack, but it's well equipped, though the teenager working hasn't seen a carbon bike before; he starts to clamp the downtube in his stand, and then, when I ask him to use the seat post (aluminum on my bike), he starts to loosen the seat. Once I get the seat bag off, he does fine, though they can't go above about 80 psi with their compressor. That's enough for now. I notice later that the village features a bicycle shop that looks a bit better.
We ride down to the village and have lunch at a somewhat forgettable café, pick up some bread and cookies at the bakery next door (both were excellent), and head out to meet our ferry. *Up* to the ferry dock, since there's a hill between the ferry dock and the village. This was a great day; weather was perfect, route was good, scenery was good, company was great.
| | |
| --- | --- |
| Distance | 37.3 miles |
| Elevation | 2455' |
| Strava | Link |
Day 3 – Friday Harbor
The forecast is rain, and not the gentle kind, so we bag on the cycling for the day and take a trip to Friday Harbor (on San Juan Island) for lunch and bowling. Friday Harbor is a small city, and if you want more options for lodging, you will find them here.
Getting on a ferry to go bowling seems a little weird to me, but since the cost is zero, all it costs us is time, with which we are well equipped. For lunch, Kim has a good basket of scallops and I have a forgettable basket of fish & chips. It's sunny when we walk up the street to bowl, and find that we have the 8-lane bowling alley to ourselves. As usual, I present little challenge to my "bowled for years when I was younger" wife, but after a bit of coaching I manage to take the third game. After a couple games of pool, we walk back down to the ferry dock in a light rain, which changes to a heavy rain by the time we get there. When the ferry shows up, we board, along with some very damp cyclists and pedestrians.
We camp out inside for the afternoon and listen to the thunder and lightning, congratulating ourselves for our foresight. We head into "town" to the Lower Tavern for dinner (so named because there is a tavern located higher in town as well. Just kidding – there is no other tavern in town). Our dinners are good by usual standards (not island standards, so they're pretty good), as is the service, though if you are into mixed drinks you should look elsewhere because it's strictly beer and wine.
Day 4 – San Juan Island
With the promise of nicer weather and a beautiful morning, we take the 10:something ferry back to Friday Harbor. This time I've pre-planned the route using ridewithgps.com, but that doesn't keep me from making a wrong turn right off the bat. The climb from the ferry dock isn't bad, and pretty soon we are on on Roche Harbor Road heading to the west. About this time, I remember that telling my GPS to navigate isn't the same as telling it to start recording, so I'm missing a bit of distance. It's a nice enough road, but there's a fair bit of traffic for a weekday morning. I expected to see a few nice water views, but this section is mostly just through forest and farm land.
There's an interesting dichotomy on the islands; there are some really nice houses right on the waterfront, and then lots of agricultural land on the interior sections. On Lopez, for example, there are are waterfront homes for $500K+ (or perhaps you'd just like your own island), or you can head inland and find a small lot with a well for $40K. 
After about 8 miles, we turn off and head down towards Roche harbor, or, more technically, towards Roche Harbor Resort. We go straight past the upper village, descend down a steep hill, and then work our way back towards the marina. There is a small grocery store there, but we decide to eat at the Lime Kiln Café, named for the lime kiln that used to operate in a state park about 10 miles away.
We grab a nice table outside in the sun, and I go to stand in line to order. Overheard while I am waiting in line:
This is our last day here. My husband and his helper are getting the boat ready to go back to Seattle, but I have somewhere I need to go, so I'm going to fly out.
Here's a typical picture of the marina, there are a lot of very expensive boats here:
There is a serious amount of money in this place, and they're doing a bunch of building to ramp it up a bit.
After lunch of sandwiches – which were quite good and reasonably priced – we had a choice: we could either ride up the very steep road we came down, or we could ride up through the steep road on the village. I suffered up it; it was short, but it was in the 15%+ range. Kim also suffered up the first part of it, and walked the rest.
We returned back to the turnoff, and headed south, onto Mitchell Bay Road and then West Side Road. I had hoped for some nice water views here, but it was just hills the whole way, which reminded us that we ate too much at lunch (pro tip: you will be happier after lunch if you save half your sandwich for later). After a tight steep descent we finally ended up in the state park, where we rest for a bit and go out to the whale watching overlook. After 15 minutes in which neither cetaceans nor pinnipeds are in evidence, we clip back in and resume our climbing. At least this section has some nice views of Vancouver Island. Eventually, we turn inland and eastward, heading back towards town. After 5 miles of rural traffic, we hit the asphalt-paved outskirts of town and breathe a sigh of relief to be off the chipseal. We still had a couple of hours before the ferry, so we read the paper and buy a pizza (trendy ingredients, average flavor, but I'm a traditionalist in this area) to eat on the boat.
| | |
| --- | --- |
| Distance | 30.3 miles |
| Elevation | 2624' |
| Strava | Link |
Day 5 – Mount Constitution
This was our last full day before heading back. We discussed heading over to Shaw island, but it has an inconvenient ferry schedule and Kim was feeling a bit tired, so she opted out of riding for the day. I decided to head over and climb Mount Constitution, the tallest point in the county at 2399'. I headed out at 9:30 on the same route that we had taken the first day. My legs were a bit heavy and I didn't feel particularly peppy as I retraced the route. I had done some reading about the climb; it was fairly easy at the beginning, had a big section of 13% in the middle, flattened out, and then had another steep section at the top.
I rode up the steep hill where we turned around the first day, which put me 400' higher, and soon saw water on my left. My first thought was, "Damn, I'm going to have to climb up all the way from the sound again", but I was instead riding next to Cascade lake, a pretty large lake at 350' of elevation. That left me with around 2000' to climb. Soon after that, I hit the base of the climb:
This is a pretty small sign and you need to pay attention or you may miss it. I turn off, and start the climb.
The first section is about what I expect; lots of 7% climbing, and a few sections of 10%. I don't want to overdo it, knowing what is to come, so I keep my wattage in the 225-250 watt range. That puts me at around 140-145 on my HR. Interestingly, That's about 10% more power than I was pushing on the climb up Hurricane Ridge last month but with a slightly lower heart rate.
The climb reminds a bit of the first part of Paradise on Mt. Rainier, though it's quite a bit steeper. After about a mile, a road branches off, the road tips up, and the fun begins. This is about a 2000' climb, and I climbed hurricane at about 660 meters/hour, which means I should be able to do the climb in a perhaps 50 minutes.
The next two miles are steep. It's typically around 12%; some sections a bit flatter, some a bit steeper. My legs feel okay – as okay as they can on this steep of a climb – and I keep the same wattage, which puts my cadence about 55 RPM. I stand up every couple minutes to give my legs a chance to rest. A car passes me now and then; I keep checking to see if it is a blue outback, as Kim has volunteered to chauffeuse for me today. If there is no traffic and I can see well, I ride the sharp hairpins on the outside to make them as flat as possible. My back – which has been bothering me for quite a while – starts to hurt, and it still hurts even when I stand up. I keep pressing on.
After what is a surprisingly short period of time (my data says this section was 2 miles long, 1000' high, and I did it in about 22 minutes), I turn a corner and the road flattens out. This is the flatter section I had been waiting for, so I shift up and try to keep my wattage where I want it. It is challenging. Part of this section is flat, but there are still some small climbs. It takes me about 8 minutes, during which I travel a mile and climb another couple hundred feet. The description of the climb said that it has a hard section at the top, and sure enough the road tips back up, I start climbing hard again, and a very short 2 minutes later, I'm surprised to see the buildings at the top. One quick loop of the parking lot to get my heart rate down, and Kim pulls up. I switch to my regular shoes, and we walk up to the top. She takes the obligatory picture (I couldn't find a sign that had the elevation on it):
That's Puget Sound and part of Mt Baker behind me.
I climb to the top of the observation tower: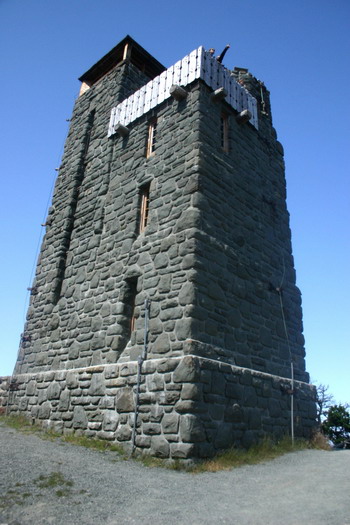 and run into a couple of other cyclists. Then it's back down (and I'm happy to not have to ride the brakes on that descent), and we head into town, back to the Island Skillet for lunch (there really aren't that many places to eat on Orcas).
I take a shower when we get back, then we head into town at 4:30, back to the Lower Tavern so that we can watch the Hawks beat the Packers. I drink two bottles of beer-flavored water, we share a couple order of vegetables and a burger, and of course, you already know what happened to the Packers…
| | |
| --- | --- |
| Distance | 19.9 miles |
| Elevation | 3424' |
| Strava | Link |
The climb was shorter than I expected; a bit of research shows that the traditional hill climb starts down at the water at Rosario, and the start of the road is at around 500', so the climb from the entrance is only 1826'. I did it in 43:00 @ 228 watts and 777 meters/hour, which I hope bodes well for the Windy Ridge climb that I'm doing on High Pass Challenge in a few days.
Summary and Totals
I had a great time. Being able to have a central location and ride from there worked very well, and having a car available was very convenient.
| | |
| --- | --- |
| Distance | 112.6 miles |
| Elevation | 11,158' |