We decided to spend a few days in Bigfork, Montana (a few miles south of Whitefish for my skiing friends) with my sister and brother in law. They graciously offered a room in their two-bedroom condo, and then my spouse graciously suggested that I bring my bike along.
I decided one day of riding was enough for our short visit, and I had two good choices
There was an 80 mile 7000′ ride around nearby lake Kookanusa, or there was a 60 mile 3500′ alp-ish climb in Glacier National Park, called "Going to the Sun Road".
Both looked interesting, but I decided on the latter because a fondness for alpiness. This ride presented a bit of a problem; some of the sections that I needed to ride were closed to bikes from 11AM – 4PM. Which meant starting early – around 6AM – to finish in time, or starting late and likely finishing in the dark. I decided to do the early version.
Montana was in the middle of a hot spell, with daytime highs in the high 90s and the lows only dipping into the 60s. So, I packed a light set of bibs, my lightest base layer, and a jersey.
Precommute
To get from the condo in Bigfork – yes, that *is* the "big fork" in town, though it is not, in fact, the particular fork upon which the town is named, the actual one being of fluviatile origin – to West Glacier is a drive of about 45 minutes, which meant leaving sometime around 5AM, which in turn meant getting up at 4:30AM.
The getting up before dawn part of riding is not one of my particular favorites, but get up I did, along with the wife who was going to drive me there and then come and get me. And then there was the problematic task of getting dressed – problematic not because of the mechanics involved, since I am often able to dress myself on my own (though determining how well I accomplish that is a task I leave to others) and there were no buttons or zipper involved, but because of my basic riding gear and a bit of a surprise in the weather department, with west glacier forecast to be in the mid-40s overnight.
There was nothing to be done however, so I pulled on my "very hot weather" base layer, my pair of summer Castelli bibs, and my Sufferin' Summits jersey.
I generally wear the Sufferin' Summits jersey when I want publicity for the ride, which in this case is probably a bit pointless, but it is also white (part of the "let's stay cool" theme) and has very deep pockets. And I threw on my PI sun shades arm warmers, because they work okay as arm warmers.
We load the bike in the car and start the drive to West Glacier. On the way, I eat 1.5 hard boiled eggs and a half cup of strawberries. I also dig through my bike bag and pull out my full-finger gloves, my toe warmers, my fleece hat, my light windbreaker, and my leg warmers. I do this because the temp at the condo is 49 degrees and it is steadily dropping during the ride, hitting a brisk 44 degrees by the time we get to West Glacier. I figure I'm just stuck with being very cold, but I step out of the car, put on the windbreaker, and discover that it's a dry cold and it's not that bad.
Thank god for low humidity; 44 degrees in the winter in Seattle means my winter jacket plus overpants plus neopreme shoe covers plus still getting cold.
I pull out my brown bag with supplies for the trip; it contains a half-bag of sport beans, a honey stinger waffle that I've been carrying around on rides for at least a month and which now consists only of crumbs, a small pump since the new bike doesn't have one yet, a ziploc of nuts, a ziploc of cheez its, and my tic-tac container of electrolyte pills. I take a Rocketlyte before I start, hoping it will help with the on-bike nausea I've been getting (and by help, I mean "prevent"…)
Commute
This ride features an 12 mile flat commute next to a lake before the climbing begins. After a short 1/4 mile spin, I come to the park entrance and the ticket booths, none of which are currently peopled. A lighted sign points me off to the right, and I find a kiosk with envelopes I am supposed to put my entrance fee and write my name and address. Which presents a bit of a quandry, as I have no pen with which to inscribe said name.
I settle for composing a brief poem celebrating the life of John Muir and hum the first few lines of "The forest ranger song", and hope that will suffice:
When we rangers ride the trail / In sunshine, wind or snow or hail
We're always ready / We're true and steady.
There's a friendly laugh, a joke, / We're cheery until we see a smoke,
And then we'll fight, sir, / To get it right, sir.
We never leave a fire till no spark is to be seen;
Our job's to guard the timber, keep the forest green
That sorted, I head straight and then turn right onto the Road to the Sun road, riding next to a Ackbar campground, named after the ever-popular "Admiral Ackbar" of the Star Wars franchise. I'm sure you can see the resemblance:
It's brisk but really not too bad, and the combination of me warming up and getting next to the lake (which holds some heat) warms me up, except for my feet which are stubbornly frozen.
The lake on my left is Lake McDonald. According to the official Forest Service history, the name of the lake is in commemoration of an eponymous act of vandalism by trader Duncan McDonald who carved his name into a tree in 1878. Disappointingly, the official history is silent on further details, telling us neither whether Duncan ever owned a farm nor what kind of animals might have been kept on said farm.
Traffic is light, which is expected since it is currently 6:20AM on a Monday, but there are a few cars around. With one exception, they all pass courteously.
Preamble
The flat commute took me to the north end of the lake, which is fed by a stream that Wikipedia names "various stream". The road parallels this stream and begins to climb up slightly, with extended sections of climbing with a 1% gradient. I grab 23 cheez-its from my stash, drop one, and stuff the remainder in my mouth, hoping to pre-fuel for the long climb ahead.
I get colder; the sun is technically up and you can see it on the highest peaks, but the western valleys are still in heavy shaded and I'm above the moderating influence of the lake. This persists until about the 21 mile mark.
Amble
The base of the climb is commemorated by a no passing sign. A search in Google Streetside did not find it, so I have recreated it here: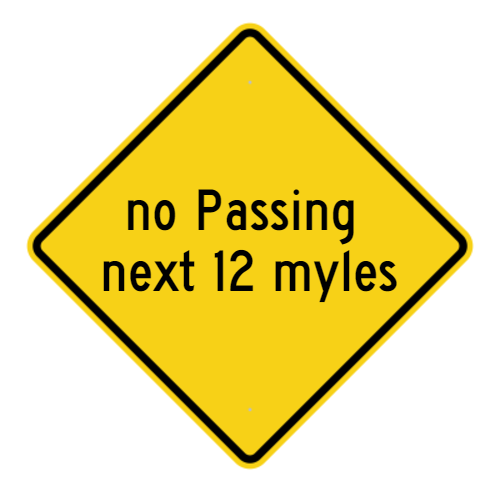 I did, however, find the following sign: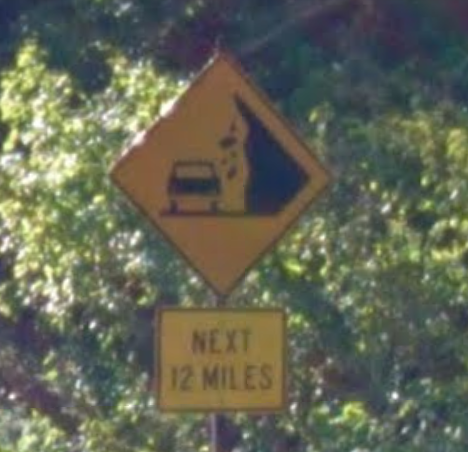 Luckily, rocks do not fall next to bicycles, so it seems that I am safe.
The climb will take me – with any luck – from 3500′ all the way up to 6647′, for a total climb of a whole lotta feet (927 meters, or just a little bit over 1 Tourmalet). I climb for about 5 minutes at about 180 watts, stop to remove my windbreaker and stuff it into its storage pocket and my jersey (if you do not own a stuffable windbreaker and a stuffable vest I do not know what is wrong with you), and continue climbing. After a bit I pick up the pace a bit, climbing at a little over 200 watts.
My feet are still cold.
My plan for the climb is to ride conservatively for the first half and then see if I have a few more watts in me, so of course I climb too hard at the bottom and have to back off a bit. The climb is very consistent at the 5-6% gradient that highway engineers love, and I'm climbing it at a little over 6MPH.
After a bit I hit "The Loop" switchback, which redirects the northwest road back to the southeast. I wave to a couple of touring riders taking a break in the parking lot, and continue to climb.
The combination of a low speed limit, small tour vans and coaches, and the "no passing" rule means that the traffic patterns are interesting. I might climb for 5 or even 10 minutes with no cars either direction, and then a stack of 10-25 cars will catch up with me and pass "en masse" (could I perhaps say, "en passant"?), only to leave my by myself for another long period. The road is has gotten the "A-list national park" treatment, which means great asphalt or concrete the whole way, with none of the chipseal I was worried about. Many of the drains are piped underneath the road, though there are a number of surface drains with grates over them. The Roubaix is fine with them going up and I make a mental note to be careful with them when I descend back down. The drivers are uniformly well-behaved with no bad passes, and the only hand signal I see is a thumbs up from one car.
The climbing continues. Since we are above treeline and the road runs somewhat in the same direction, I can see the road ahead for a mile or two. Once you reach the end of that part of the road, you are treated to a new vista and a new high point to which one will be climbing. This happens twice. At some point, I pass through 5000′, a point at which I'm about 12% down on oxygen compared to sea level, and shift down to my lowest gear. And keep climbing.
For those of you tracking things at home, my feet remain cold.
There are many water features on the way, notably haystack falls, bird woman falls, and the weeping wall. It's getting past the peak snowmelt season, so the weeping has slowed down to something more akin to "tearing up". I don't stop at any of the features because a) climbing and b) 6 mph gives me plenty of time to look at them. I do not recommend spending much time looking over the edge of the road; that 12″ high stone barrier is often the only thing between you and a significant drop.
I would definitely describe the climb as "Alpy". Great views and a road that is both very curvy and hung on the side of the road in places.
I still climbing along at about 6MPH, and I finally drop down to my 34/32 for the last little bit. I know it's the last little bit because a) I'm watching the mileage and b) the road gets sunny up ahead.
I finally crest the end of the climb and reach the top of Logan Pass, 6646′ up and on the continental divide. The pass is named for William Edmond Logan, a Canadian-born geologist who later went on to star in an sci-fi thriller set in an idyllic society in the year 2274.
A brief rest to eat a few sport beans, gather a bit of electronic proof, chat with a few cyclists who climbed up from the other side, and put my windbreaker back on, and it's time to head back down. I experience a short period of foot warmness.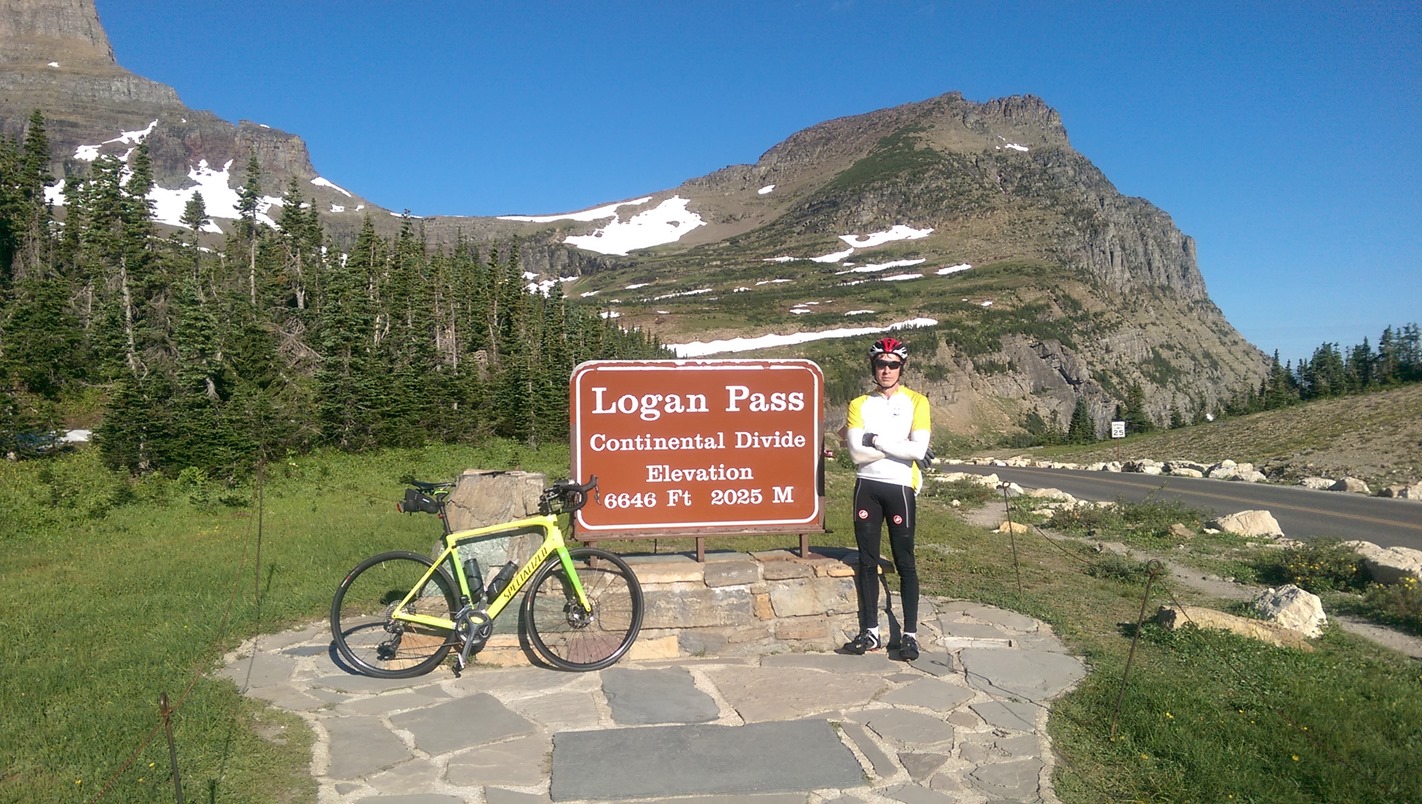 Descent
I like big alpine climbs, but I absolutely love alpine descents. In this one, the long and fast sections are punctuated by wet sections and sharp corners where too much speed will either send you into a rock wall our out into space, neither of which is particularly desirable. I have a bit of a quandry on this descent; I can descend slow but I'm back in the cold air and still a little sweaty, so I will be cold for a long time. Or, I can put a bit of power into the descent, warming me up and spending less time in the cold shade. I settle for the "bit of power" approach for the straight sections and the "slow" approach for the tight turns and the wet spots. My Roubaix's disc brakes make this trivially easy, and I average about 20 MPH for the descent, completing it in a hair over 30 minutes.
Strava shows me that the fastest descender completed that descent in under 17 minutes for an average speed of nearly 37MPH, which is pretty much unfathomable to me.
Commute
At the bottom of the descent, it's back onto the preamble and then the commute back. It's at this point that I realize that if I had been smart, I would had a snack and a fair bit of water at the top so I could recover a bit on the descent (trying to eat and drink on alpine descents is not a good move), but I was not, and I'm kindof drained at this point. I stop at Lake McDonald lodge road to eat and drink, but the nuts and cheez-its that I eat and the water I drink are not a happy combination, so I add "upset stomach" to my "lack of power", and just decide to slow down and spin my way back. I get back West Glacier at about 10:45, and the wife pulls in a few minutes late. Bike in the back, bike gear stowed, and a Coke Zero in my hand, and it's back to the condo for a shower and some lunch.
Summary
A pretty nice ride. I'm happy that I was about to climb at an honest 2000′ per hour for the whole climb while feeling pretty decent; being lighter definitely helped. I'm less happy that I'm still working on fueling and hydration, but such is life.
Stats
64.4 miles
4080 ft of up
14.0 MPH average speed
2484 kJ/calories
1 HC hill climbed
0 STPs
Strava extreme suffer score (173).
Postscript: It has been brought to my attention that the name of the campground at the south end of the lake is "Apgar", not "Ackbar", and rather than being named for a character in Star Wars, it is in fact named after the name given to a method to summarize the health of a newborn. We regret the error.