I've been having a repeated online discussion about fat and carbohydrate burning, and therefore decided to write a post that goes into it in detail.
There is a very common – perhaps even famous – graph in exercise physiology that looks like this:
The explanation that goes along with says that at low intensities, our bodies get most of their energy from burning fat, but that as we get to higher intensities, the percentage gradually changes, until at the top intensities, we get pretty much all of our energy from carbohydrate (CHO in the diagram). This explanation led to a lot of advice; there was a lot of advice that people should exercise at low intensities because that is where they would burn the most fat, and then contrary advice that said that while the fat burn was a smaller percentage at higher intensities, it was larger in absolute values and therefore to burn more fat you should work out at higher intensities.
What this discussions missed was something very simple…
This graph cannot be true for the vast majority of the population.
And it is wrong for a very simple reason; our bodies adapt their energy sources based on the diets we eat.
To illustrate why, let me discuss two different people:
Chris eats a very low fat diet of about 2000 calories per day; of these, she gets 10% from fat, 25% from protein, and 65% from carbohydrates.
Felicia eats a low carb diet of about 2000 calories per day, of these, she gets 65% from fat, 25% from protein, and 10% from carbohydrates.
Both have stable weight and body composition; they are neither gaining nor losing weight.
Let's explore how the graph might relate to Chris, starting at the left side. If Chris is getting 80% of her calories from fat, then she needs 2000 * 0.8 = 1600 calories a day from fat. But she is only eating about 200 calories per day in fat and her body composition is stable, so there is no place that she could be getting an extra 1400 calories a day in fat. If she had that big of a fat deficit, she would be losing about 2.7 pounds a week (1400 * 7 = 9800 calories / 3600 is about 2.7 pounds). Further, if she is only getting 20% of her calories from carbs, that would be 400 calories per day, but she is eating 1300 calories per day, so she has an extra 900 calories per day of carbs. Those carbs need to go someplace, but the only big carb sink in our bodies is to store those calories as fat.
This graph simply cannot be true for Chris. Given that she has a stable weight and body composition, the energy she gets has to come in the same proportions as the food that she eats.
On to Felicia. The left side of the graph can work okay for her; she eats a lot of fat calories and those could provide the bulk of her energy at rest. It doesn't work well for her at the right side; she is only eating about 200 calories per day of carbs, and let's say that she goes on a one-hour run every day at moderate intensity. On that one-hour run, she burns around 500 calories, and half is 250 calories from carbs. But she is only eating 200 calories per day of carbs, and there are other tissues (the brain and red blood cells) that need some glucose to survive, so she doesn't eat enough carbs to make this graph a reality.
In neither of these cases is the graph a realistic depiction of what is going on. So what really happens?
Well, here's some research from back in 1997 where they played around with the amount of fat in the diet, and this is what they found:
"The results of the present study show that, in situations in which energy balance is reached, substrate oxidation can be adjusted to substrate intake. After 7 d(ays) on a high-fat diet, fat oxidation was, on average, equal to fat intake." (Discussion section, first paragraph)
In other words, the amount of fat that the subjects burned adjusted to be the same as the amount of fat the subjects ate.
Or this study. From the abstract:
Diet composition did not affect total daily energy expenditure but did affect daily nutrient oxidation by rapidly shifting substrate oxidation to more closely reflect the composition of the diet.
The same result as the other study. Our bodies adapt to burn the mixture of food that we provide it.
So, what does the graph really look like?
Here is some data gathered from testing a couple of athletes; the full article is here. Basically, you put them through a VO2max testing protocol, and you measure their fat and carbohydrate metabolism along the way.
Here is the first athlete:
This is athlete burns a small amount of fat even at very low intensities, and it only gets worse from there. Based on what I wrote about adaptation, what kind of diet is this athlete on?
Yes, it's a high carb one; in fact, the athlete said that he had a sweet tooth and ate lots of sugar. Even at rest, he is burning a lot of carbs, and it only gets higher from there. As part of the study, this athlete modified his diet to reduce the amount of carbs and increase the amount of fat, by minimizing sugar and eating rice/break/pasta/potatoes only once or twice a week. After 10 weeks of training on the new diet, he looked like this:
He now gets a lot more energy from fat across the board, though he still gets a lot of calories from carbs. His body adapted to use the kind of diet that he now eats.
Here's a second athlete:
What kind of diet was he on? Well, there's no description of that in the linked article, but my guess is it's a pretty standard athlete diet, and he doesn't eat a lot of sugar. He is decent at burning fat, burning 40-50% over most intensities, but most of his energy still comes from carbs.
He switched his diet to take out grains and fruit (a break from the study goal, which was a low-carb ketogenic diet), and trained for 10 weeks. Here's his second graph:
He now burns a ton of fat *everywhere*, regardless of intensity. Even at 4.5 watts per kilogram – a very high energy output – the fat and carbohydrate burn are about equal. The contrast of this graph to the first athlete's "before" graph is huge.
Note that none of these graphs look like the one at the beginning of this post; what we see is that the poor fat burners stay poor fat burners as intensity rises, and the same for the good fat burners. We do see that at the high end fat burning goes down and carb burning goes up, but the overall graph shape doesn't look like what we are told it should be.
So, where does the graph come from? Not being in the field and having not researched this thoroughly, I do not have a definitive answer, but following a reference led to this article which has this graph in it: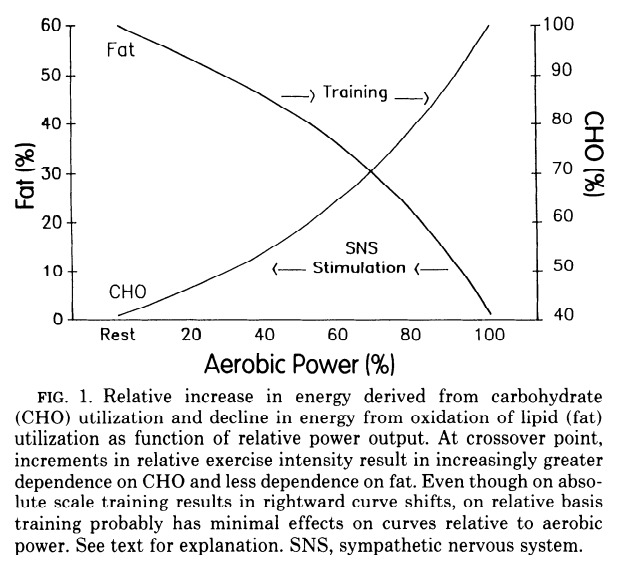 Digging a bit into the article, it is about how training effects the relative use of fats and carbs during exercise. I followed a few of the cited articles, but did not find the ones I wanted for free. I *did* find that the article cited Phinney's early research on exercise and ketosis, which to me implies that the author knew about the adaptation due to different diets.
Anyway, I didn't find any support for the idea that this graph was intended to be a representation of different sources of fuel *in general*.
So how do I burn more fat?
The whole concept of a fat burning zone and different intensities is not supported by studies. What *is* supported is that humans adapt to be good at burning the kind of fuel that they have available over time after a short adjustment period.
If you want to burn more fat *in general*, the answer is pretty simple; if you eat fewer carbohydrates – especially simple carbohydrates with high glycemic load – you will get better at burning fat during the day. Whether you lose weight will depend on your overall energy balance – you will still need to eat fewer calories than you burn to lose weight – but that puts you in a better position to be burning fat.
If you want to burn more fat during exercise – which can be a great way to burn fat – there are a few approaches:
You can change your base diet to eat fewer carbohydrates – especially the simple ones.
You can reduce the amount of carbohydrate that you take in during exercise. If your exercise is of a long enough duration, you will burn off enough carbohydrate to encourage your body to shift to better fat metabolism.
You can exercise fasted. You start in your best fat-burning state, so the exercise will have more of an effect on changing how your body generates energy.
You can mix and match these at will to see which one works the best for you.
There are a few caveats when it comes to exercise:
To become a better fat burner, we need to train as if we were already a better fat burner – without as much available carbohydrate – and if we train for a significant duration, we can exhaust our carbohydrate stores and bonk. So, my advice is to have a source of carbs with you in case you start getting hungry or feeling really tired, and if this happens, to have a few of those carbs.
When you start, your body is poor at fueling your exercise from fat. That means that you are going to have less power overall than you are used to. If you continue to push hard, you push your metabolism over to burning more carbs, losing the adaptation that you are trying to get. So, you will need to slow down to get the best adaptation, and remember that it's going to take a little while (ie weeks) to become decently adapted.