As is true for most of us who are on the far side of the half-century mark, I have a number of what my mother referred to as "aches and pains". For reasons that I hope will become clear shortly, here's a short list:
I get shoulder and neck pain when I ride my bike, especially on long rides
I get this weird pain just above my butt when I ride, especially on hilly or very hilly rides
There's this weird cramp I get under my left shoulder blade when I try to bench press
If I drive in rush hour traffic, I get pain on the front side of my shin just above the ankle from lifting up my toes.
I've spent a fair bit of time in PT for the first two and gotten some relief (and some overall improvement in other areas), but the issues never really got fixed. I've done a fair bit of foam rolling and some ball massage as well, but still not fixed.
A few months ago, I came across a recommendation on Reddit for someone with weird back pain. It was for a book: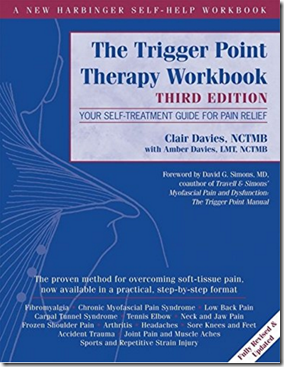 So, I ponied up the $17, it showed up a few days later, and I started reading.
In the introduction, the big new thing that I learned was trigger points can be referred, which means that the point where we feel the pain may not be the cause of the pain. You can massage the hell out of the painful spot and not make any progress.
This wasn't that much of a surprise, as I already knew about referred pain in other contexts; appendicitis pain can show up on the wrong side or even in the shoulder. But I hadn't thought about it related to muscle pain.
The introduction is followed by a 15 second on treatment guidelines; different ways of doing massage and what you need to be careful about.
The second half of the book is organized into chapters for specific areas of the body. Since I was most interested in the lower back pain, I turned to Chapter 8 – Midback, Low Back, and Buttock pain.
For the lower back, it lists a bunch of muscles; gluteus medius, psoas, deep spinal muscles, etc. I'm not really excited about working through all 9 of them.
The next page has a list of symptom; does it hurt when you cough, when you swim, when you turn over in bed, and my personal favorite, "Forced to Crawl on All Fours". "Climbing stupid steep hills on your bike" is not listed, so I turn to the next page, which is titled, "Pain Illustrations Guide".
On this page there are drawings for each of the muscles, showing where there trigger points are typically located, and then an accompanying drawing showing where referred pain can show up. This is very nice and easy-to-understand approach. I do a quick search, and I come up with this: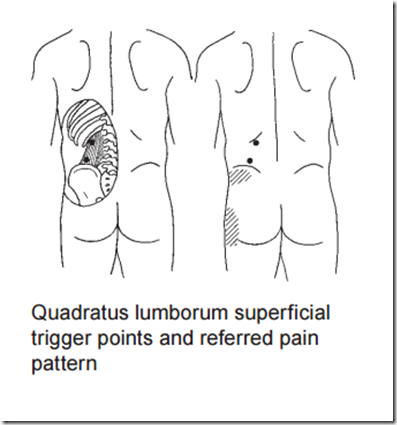 I dig out a lacrosse ball, find a wall, and start rolling around to see if I can find the trigger point. And – what do you know – the upper trigger point hurts when I roll over it (the book uses the term "exquisitely painful", which I think is a nice phrase) *and* it refers pain to my lower back, to pretty much the exact spot where my back has been hurting.
I flip to page 199, to the section titled "Quadratus Lumborum". Each muscle section has an introduction has some simple anatomical information; where the muscle is, what it does, etc. Then there is a section on Symptoms, which talks about where the pain can show up and what movements are most likely to make it appear, what other maladies might cause the same symptoms, and whether there are more likely muscles for a specific pain.
Next comes "Causes", which talks about injuries or other conditions that might lead to trigger points. In this case, I find that QL trigger points may show up if gluteal muscles are stiff or weak, and Eric knows that he had poor gluteal activation from previous trips to the PT (I think I've mostly fixed that).
And finally, there's a "Treatment" section, which tells you how to find the muscle and how you might find the trigger points. And it tells you want to do for treatment; in this case it's rolling with a ball or using a Thera Cane, which I already happen to own. For some muscles, it will give cautions about reasons to be careful. It might also tell you that you should work on a different muscle first because they are related.
There is a ton of detail about each muscle, and I think that's what makes the book worthwhile.
So, I start rolling those trigger points with a massage ball on a mostly faithful basis, and after a few weeks, the pain is pretty much gone. Last year I dropped out of Sufferin' Summits because the pain was too much; this summer I rode both Sufferin' Summits and Passport to Pain without lower back pain, which is a significant improvement.
I should note that I'm not sure that there is less pain in the short term, because trigger points can be very painful when massaged. If you've ever had a deep tissue massage, it's that sort of feeling, but since you are doing it yourself I think it's easier to regulate the pressure to be tolerable. On the other hand, as a cyclist, I spend a lot of time in self-inflicted pain so I'm not sure you should trust my opinion.
I've been working on some of my other issues as well. The shin pain when driving fit the Tibialis Anterior referred pain diagram, and holy cow, did the trigger points there hurt. The luckily seemed to resolve pretty well.
I've had less luck with the neck/head issues; they have been going on for a lot longer and from I can tell there are approximately 357 different muscles that I need to work on.
So, highly recommended. Just be aware that it's going to take some study and it's not going to be comfortable.